Improving protection performance in electronic devices
Four Electromagnetic Interference and Thermal Management Solutions to Keep Your Devices Performing at Their Best
Electronics manufacturers always seem to be looking for ways to make devices smaller, lighter, and more user-friendly. New technology has enabled new types of user experiences, changing the way devices are designed and built. But as electronics change, one thing remains the same: the need to protect devices from external forces like water, electromagnetic interference (EMI), sound, vibration, impact, and harsh thermal conditions.
The adhesives and flexible materials you use can play an important role in protecting electronic devices from these outside influences. The key is to identify the right material for your application and the right converting partner who can convert those products to increase efficiency in your manufacturing operation.
At Saunders, we're experts in providing custom-cut tape and flexible material solutions for electronic applications and have worked with companies across industries to develop solutions. So, we created this ebook to help electronics manufacturers improve device performance and speed up the design process. You'll find insights into materials and design considerations that manufacturers can use to improve protection in complex stack-ups and achieve target outcomes.
In this guide, you will discover:
Four materials and processes to prevent negative impact on electronics from outside forces
Recommendations to fit your application needs
Time-saving solutions to boost your electronic manufacturing business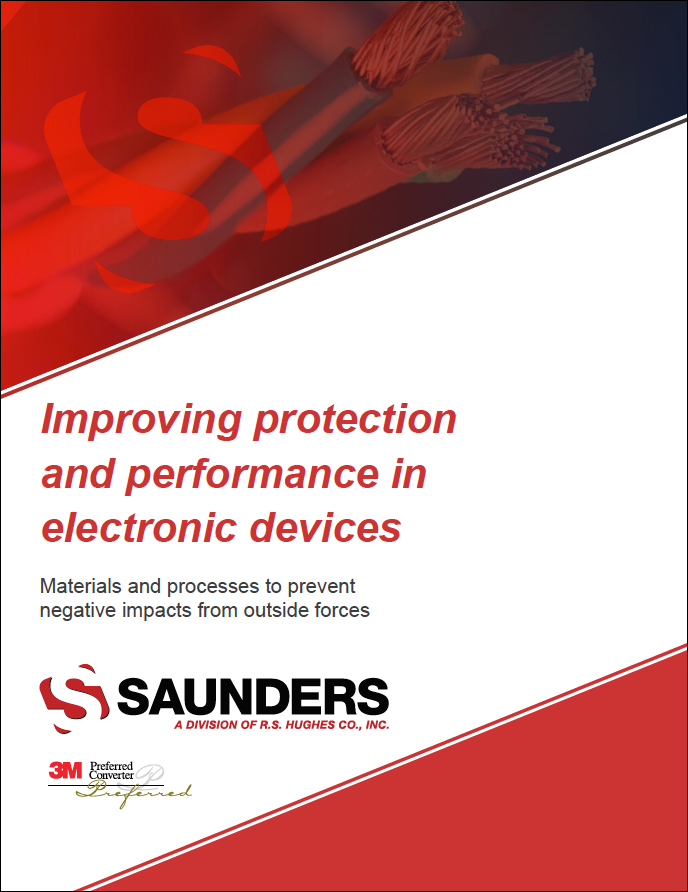 Submit the form on this page to access the document