Saunders Is Celebrating Over 60 Years In Business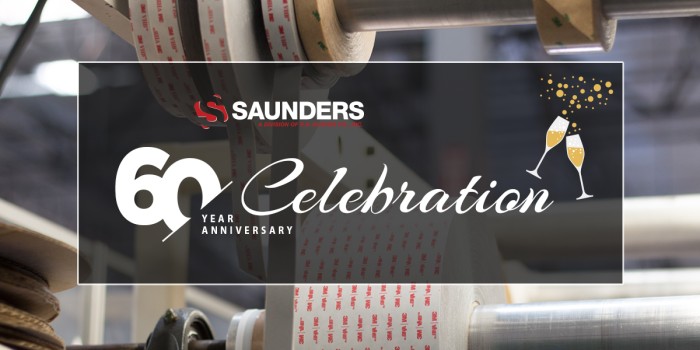 Saunders the leader in the converting industry is proud to announce its 60th year in the industry.  This anniversary marks a celebration of innovation, quality, outstanding workmanship, and professionalism in the marketplace. "For over sixty years, we have built a solid reputation of world-class engineering solutions, growing into the company we are today, with [unmatched] customer service and unlimited potential opportunities.
Flexible and adaptive from the very beginning
Founded in 1959, Saunders specializes in providing customers with unique, engineered, die-cut solutions, exceptional products, availability, and unmatched attention to detail. We specialize in converting, manufacturing, and packaging of products for businesses throughout the U.S. and Worldwide.
We are an innovative and diversified manufacturing team providing die cutting, laminating, slitting, packaging, assembly, and other manufacturing capabilities to the industry. We partner with Manufacturing and Design Engineers, Purchasing Agents, and Production Personnel in providing unique and cost-effective manufacturing solutions that meet their needs. We also provide technical consultation for product design and the design of effective manufacturing processes.
Our customers tell us that what they appreciate most about us is our quick turnaround, competitive rates, and the ability to take the time to listen to our customer's product manufacturing challenges and design a custom product solution to meet all of your product specifications.
Culture of innovation
The current Saunders team has been an integral part of the culture of innovation, world-class engineering, and unique customer problem-solving. Each member of the team has a deep passion for finding better solutions for clients' manufacturing challenges, constantly stretching the team's capabilities and expanding their organization's offerings. Since the beginning, the company has always aspired to deliver the best, customized solution for all of their client's needs, while delivering a diverse range of projects on time and on budget with minimal disruption to production. Over the years the business has received a number of recognitions and manufacturer awards.
Fostering long-term client partnerships
One key to the company's success has been the ability to build long-term relationships with clients. The business has delivered custom-designed solutions to many large and small organizations in the United States including industries in aerospace, automotive, appliances, electronics, industrial, and many more. A number of these clients have worked with the company for several decades and continue to challenge our engineers. 
Saunders employs over 18 full-time sales engineers and over a dozen production staff. The team is comprised of years worth of experience and talent from every walk of life. Our diverse environment and massive distribution network give us the tool needed to meet the needs of any sized organization. Thanks to our clients, every year suppliers continue to recognize Saunders as a preferred converter. 
We are only the success we are because of our excellent clients. So once again we say "Thank You".
Well positioned for a bright future
The core values of the company are respect, flexibility, a positive attitude, honesty, and commitment. This year more than ever, the company is celebrating these core values together with its many accomplishments, legacy, and momentum, as it looks toward a bright future. Although the company is celebrating a milestone of 60 years, the face of the company and its innovations continue to grow and push forward.
Once again please join us in celebrating and raising a glass to another 60+ Years.
Check out our full line of Services and Capabilities