What to look for in a custom gasket manufacturing partner.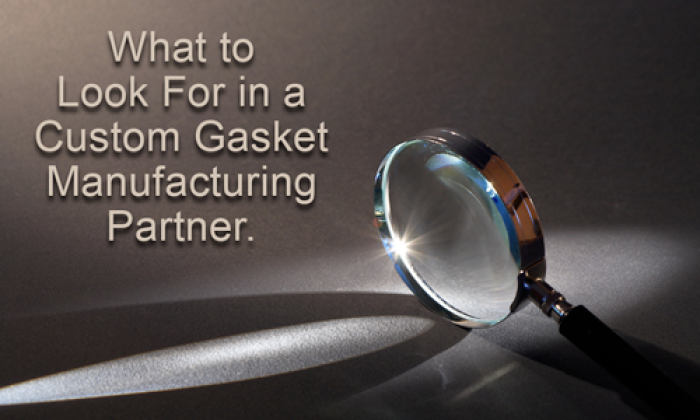 There are a lot of decently skilled custom gasket manufacturing outfits in the world today. That can leave some potential customers wondering: How do I pick one? Does it even matter?
Of course, the manufacturing partner you choose does matter, a great deal actually, and particularly when it comes down to getting your components delivered on time and in the best condition possible. There's a big difference between a run-of-the-mill shop and an exceptional manufacturer, especially when it comes to the details.
Here's what we recommend that engineers, supply chain leaders, and buyers of all kinds look for when seeking a true partner for their next custom gasket manufacturing project.
Experience with both depth and breadth
First, you'll want to look into the experience of the team who will be handling your order. Ask:
How long have they been in the custom gasket manufacturing business?
How long have their manufacturing experts been working in the industry?
How many materials and processes do they have firsthand experience with?
Do they have the sustained backing of, association with, or partnership with a highly reputable, large-scale manufacturer?
The more experienced the team, both in terms of years on the job and materials they've handled, the more capable they are. And that seasoned capability is exactly what you want. It helps ensure a quality outcome from your work together. Look for endorsements by highly reputable companies, such as the 3M Preferred Converter designation.
A focus on collaboration
Second, it's important to determine if a manufacturer sees itself as just a fulfillment operation or a true partner for your project. Consider:
Do they have the ability and the appetite to help develop and refine designs?
Can they suggest alternative materials and approaches that may result in savings or improved performance?
Will they stay engaged and work with you, from beginning to end, and take pride in creating the best possible final product?
Finding a custom gasket manufacturing partner that takes a holistic, collaborative approach will both improve your experience working with them and lead to better outcomes. Misunderstandings will be avoided. Adjustments can be made promptly and smoothly. And you'll never be left hanging, wondering how production is coming along or when to expect results.
A service-oriented mindset
Third, if you want a partner that works well with you and anticipates your project's needs, you'll want to ensure they are service-oriented in their approach. Ask:
Do they address problems proactively, whenever possible?
Do they keep in regular communication, alerting you promptly to any changes or opportunities that arise?
Do they keep careful records of work, and make those records available to you when you ask?
Are they easy to contact and quick to respond?
A service-oriented approach keeps your needs top of mind, all the time. It means trying to anticipate challenges before they arise so that your schedule and overall experience aren't impacted. Without such an approach, you're liable to experience unpredictable ups and downs in how you and your work are treated.
A shop that can handle (almost) anything
Finally, even if you're just looking for a manufacturer for the simplest of gaskets, you'll be better served if their shop can handle a wide variety of materials and manufacturing methods. Then you'll never run the risk of being railroaded into an inferior choice simply because the manufacturer can't offer the better option. Consider:
Does this manufacturer have multiple, state-of-the-art machines and methods at their disposal?
Is this manufacturer flexible in terms of what materials my gaskets can be made of?
Does this manufacturer offer a variety of finishing options including kiss cutting, lamination, liners, and liner release aids?
Simply put, the more options your custom gasket manufacturing partner can offer, the more confident you can be knowing you're always getting the best possible solution.
You can't do better than Saunders
If a manufacturing partner with all the qualities we've laid out above sounds appealing to you, then you can't do better than a partnership with Saunders. As a subsidiary of R.S. Hughes and a 3M Preferred Converter, we've got the experience and the capabilities to handle any custom gasket manufacturing project, no matter how large or complex. Best of all, when you work with us, we'll always treat you well with a service-oriented and collaborative approach.
You can request a quote anytime, just use the form on this page or visit our homepage. And of course, if you have any questions, please don't hesitate to give us a call at 1-888-932-8836.