5 Reasons To Use Die Cut VHB Tapes on Your Next Project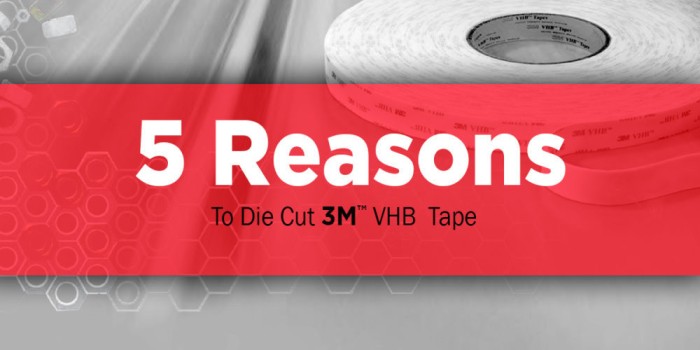 Manufacturers and design engineers are constantly being faced with challenges in every step of their design process. When tight deadlines must be met and budgets must be adhered to, more design engineers are relying upon the custom-cut versatility of 3M VHB tapes.
For many years, engineers and designers have been limited by the holding power of mechanical fasteners, rivets, welds, and messy liquid adhesives to create permanent bonds to two substrates. While these methods do prove to have a strong initial bond, these methods often add weight to the final product, and over time, many of these methods tend to fail under stress and can lead to undesirable results.
If you are looking for a bonding solution for your applications here are some reasons you should consider using 3M VHB Tapes in your designs:
1. High Strength
3M VHB Tapes are designed to outperform traditional bonding methods. In fact, 3M VHB tapes are considered to hold 10x stronger than other conventional fastening methods and are designed to distribute bonding stress along the entire substrate versus having a single contact point.
2. Light Weight
3M VHB Tapes are made from a super strong double-sided foam with an acrylic adhesive. This compensation allows VHB tape to have a strong level of viscoelasticity while also being lightweight. One of the unique elements of all VHB tapes is that they are available in many thicknesses and widths and can be cut into any shape or size.
3. Design with No Messes
3M VHB Tapes are made to hold stronger than adhesives and also require less clean-up. These tapes feature a patented acrylic adhesive which is applied to a closed cell foam. This allows the user to basically peel off the backing and stick it to the material. There is no need to prime surfaces or to wait for the material to dry.
4. Versatile (Easy to Die Cut or Kiss Cut)
3M VHB Tapes are made to hold to a variety of materials and come in various strengths and thicknesses. In fact, did you know that there are over 40 different VHB tapes? 3M has designed an array of VHB tapes that are designed to hold to a variety of materials. From value-priced everyday VHB tapes to VHB tape that is being used to hold together some of the most iconic architectural structures, these tapes are designed with the user in mind.
5. Safer to Use and Apply
The use of primers and other preparation and finishing chemicals can lead to slower production and a chemically hazardous working environment. 3M VHB Tapes are made from a non-hazardous material, which makes them safe to touch and safe to handle without the use of gloves or other protective gear. In fact, these tapes are considered so safe that they are sought after by engineers in a variety of industries including aerospace, automotive, appliance manufacturing, energy, industrial, marine, and many more.
One of the reasons that we recommend these tapes to our customers is because of their strength, versatility, and their ability to conform to a variety of surface materials.
Call 888-932-8836 to request a sample of this amazing material today and see the differences it can make in your production and designs.
DID YOU KNOW? 3M VHB Tapes Have Been Featured in a variety of detailed videos? Check it out…